We are dedicated to providing a highly skilled, professional therapeutic massage service from the warmth of your own room, villa or home in Santorini Greece. By being in a comfortable and familiar surrounding you will receive the full benefits from this massage therapy. There is no need for you to travel before and after your session, allowing you to fully relax once the treatment is over. We offer a vast selection of professional massage therapies in Santorini to suit your every need.
Couples Delight
(60 min)-(90 min)
Swedish-Classic Massage
(60 minutes)
Holistic-Therapeutic Massage
(60 minutes)
Candle Massage
(90 minutes)
Deep Tissue Massage
(60 minutes)
Sport Massage
(60 minutes)
Trigger Point Therapy
(60 minutes)
Facial Massage
(Not offered)
Thiraform Signature Massage
(70 minutes)
Prenatal Massage
(60 minutes)
Post Flight Massage
(60 minutes)

Being away from home does not mean that you have to put your training on hold. Be active at the beach and keep your cardio up. Let me introduce you to the secrets of Santorini with a swimming tour, followed by aqua aerobics and ending with a stretching session under the warm Mediterranean sun.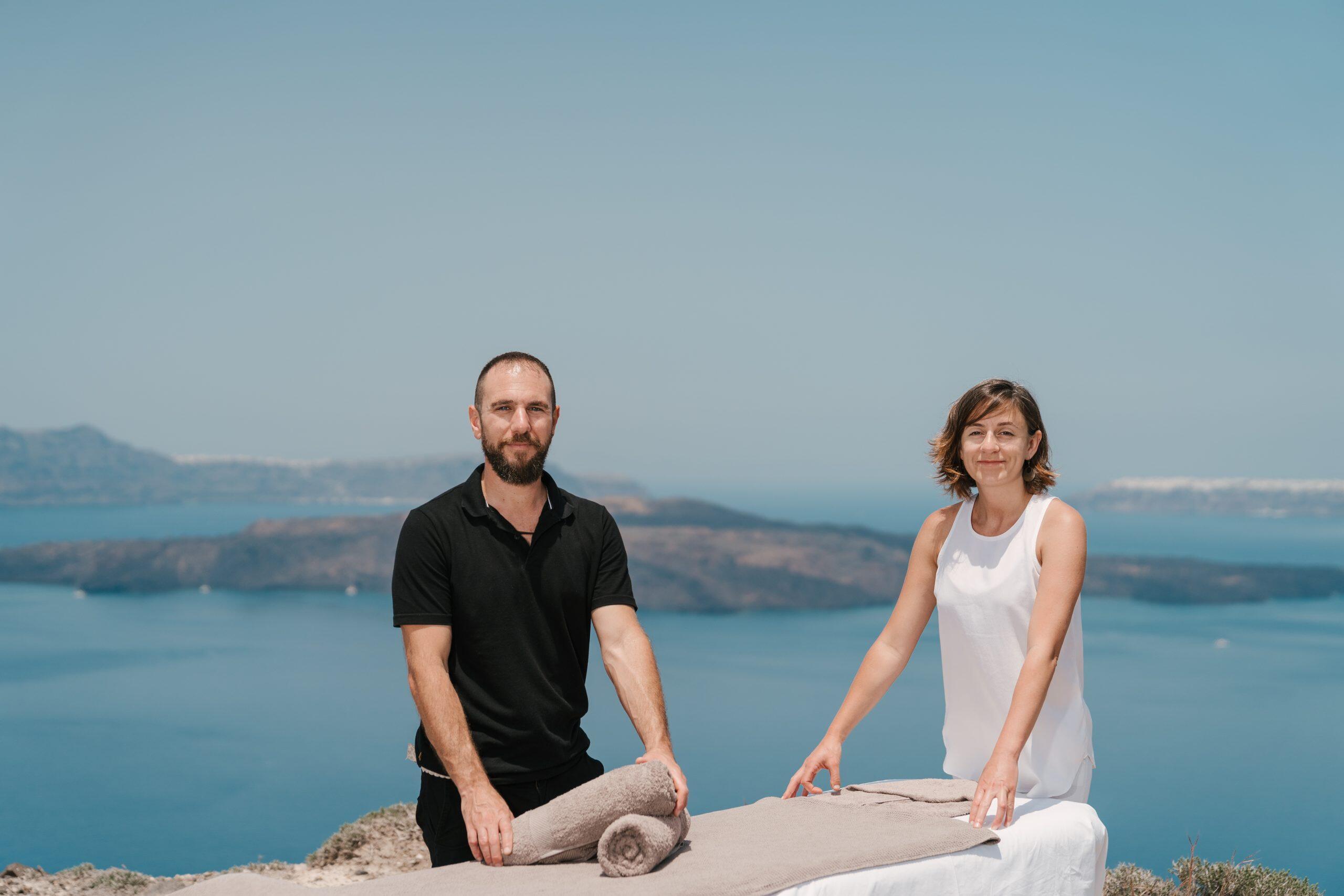 For the last nine years we have lived in Santorini Greece and worked as freelance masseurs, which we consider to be a blessing. Being a couple and having the same passion for massage is a unique experience that we hope to share with you.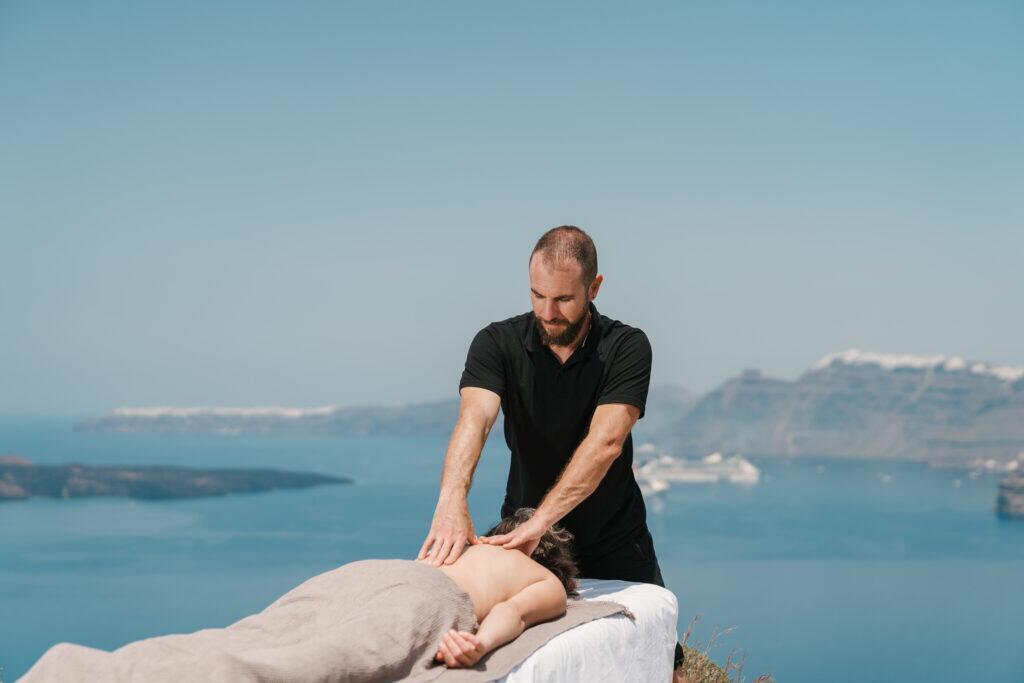 About Panos:I can say with great confidence that healing was my life's calling. My life's journey brought me to the US to acquire a degree in Exercise Physiology (BSc). Following that, I turned to rehabilitation and I acquired a degree in Sports Therapy (MSc). Since 2010, I have gained a lot of hands on experience by working for various facilities (chiropractics, physiotherapists) and by continually educating myself through seminars. So, whether your goal is to relax or heal I am here to assist your well-being.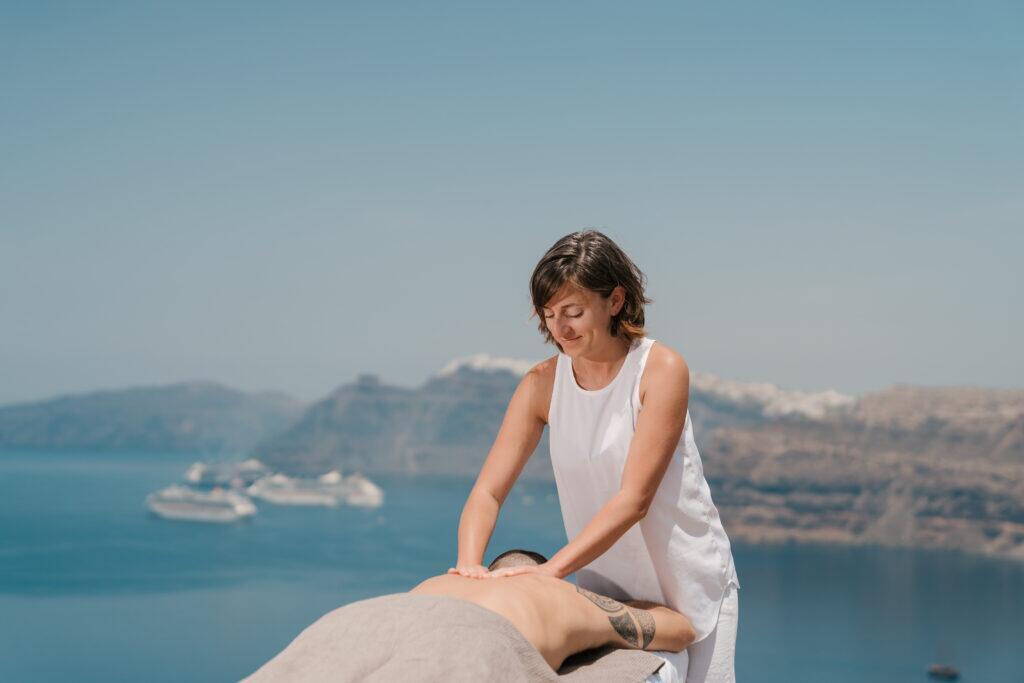 About Eva:I graduated from the Aesthetics and Cosmetology department at TEI of Athens. I have gained experience in the field of aesthetics and alternative therapy in Greece and Cyprus. After internal quests, I turned to self-improvement and first met Reiki, meditation and some other techniques I loved. I decided to combine those techniques with my passion for massage to help others. I believe that touch is therapeutic, brings physical, mental and psychological elevation.
Phone
(0030)6986389630 – (0030)6972017343